The good news is that KillaJoule passed the FIM tech inspection today. The bad news is that we are still waiting for the weather to clear up. Racing should have started today, but the event start is now scheduled for Wednesday instead. We are going to stay at least through Sunday to see how the weather develops. If it just stops raining, the salt will dry up in a couple of days. If it stops raining…
So, right now we are in a holding pattern. However, that doesn't mean that the activity stopped. Most of the racers, including us, are hanging out at Wendover Airport. Today was tech inspection day, and the inspection was very thorough with an international inspector coming from the International Federation of Motorcycling in Switzerland. They made me do the famous "bail out" test, which all racers hate. This means that you have to get into all your racing gear, including fire suit, helmet, gloves, boots etc. etc., get all seatbelts on, and close the canopy. Getting all the gear on takes about 10 minutes. When you are in position, they knock on your windshield and you have 15 seconds to get out without any assistance. I got out in 10.3 seconds which is well within the limit. All racers dread the bail out test. You typically have to do it in the roasting sun on the salt. Everybody is watching you and the inspectors are timing you. It is really easy to get stressed and get tangled up in the seat belts. I often break something, like ripping off the radio button, or accidentally release the parachutes. Nothing I would care about if it really was an emergency, but that is highly annoying the day before racing starts. We were indoors today, which made it much better. It was actually quite chilly, so it was nice to get the racing suit on. I also didn't break anything, which also was really nice. As far as bail out tests go, it was the nicest one I had, if you ever can call a bail out test nice.
The moment the vehicle was approved and all the paperwork signed, one hundred elementary school kids entered the airport hangar carrying a huge banner saying "Go Eva! Go Green!". The kids came from Salt Lake City and were here to learn everything about land speed racing. I spent about an hour answering really intelligent questions about the bike and signing everything from certificates of attendance to kids arms and school bags (I hope I won't get any angry calls from their moms tomorrow… 😉 ) However, I think that my co-pilot Bonnie S. Flats (the stuffed kangaroo) was almost more popular than me. The kids really got a kick out of a 32 year having a stuffed toy as co-pilot. Even if I like to show that you never grow to old to play, my most important message to the kids was that they should do their math homework, even if they hate it. I never liked math homework, but using math is both fun and necessary if you want to go fast.
// Eva
P.S. Mom – I am really sorry I forgot your birthday…. :*-( I have completely lost count of the days… I will make up with a better X-mas gift, I promise…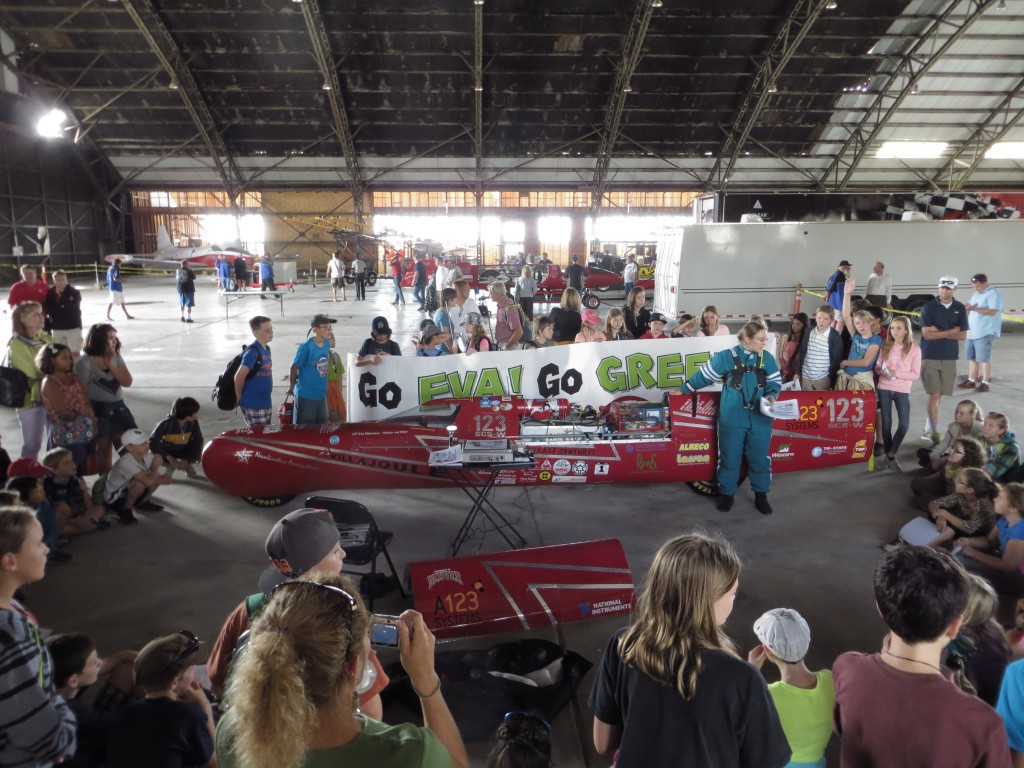 Picture: Eva with one hundred elementary school from Salt Lake City.
Picture: Eva with Rocky Robinson – rider of the Ack Attack and the world's fastest man on two wheels, and Mike Akatiff – owner of Ack Attack.