August 31, 2014. For immediate release.
Download the press release as a Word document (or read it below): Pressrelease_KillaJoule_new_record_241mph_August_31_2014-3  [.docx, 1.5 MB]
Swedish version: Pressmeddelande_EvaHakansson-KillaJoule_nytt_varldsrekord_389kmh_31_augusti_2014 [.docx, 1.5 MB]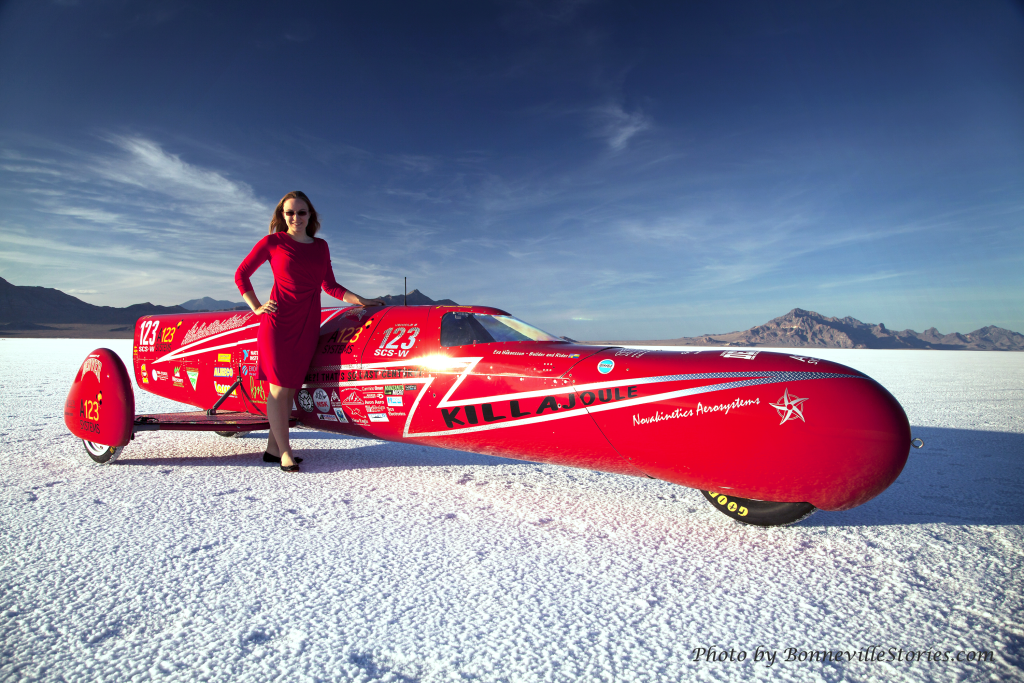 Rider and builder Eva Hakansson with KillaJoule. Photo: BonnevilleStories.com. Click on picture for full resolution.
Land speed record holder Eva Håkansson and her home-built electric streamliner sidecar motorcycle "KillaJoule" set several historical records at Bonneville Motorcycle Speed Trials last week. With a top speed of 241.901 mph (389.219 km/h) and a two-way average of 240.726 mph (387.328 km/h) (pending official certification by AMA), she beat the previous electric motorcycle speed record with a stunning 25 mph. The new speed record also made her to the world's fastest female on a motorcycle.
In addition to being a new electric motorcycle record, the speed is also an overall new record for any kind of sidecar motorcycles, including internal combustion-powered sidecar motorcycles. (The previous top record was 224.201 mph, set by John Stege.) "This is a truly historic event," Eva Håkansson says. "It is the first time in over a century that an electric vehicle beats internal combustion for a vehicle type. The last time this happened was in 1899 when the world's fastest car was the electric car 'La Jamais Contente' driven by Camille Jenatzy at 65 mph. Since then, internal combustion has dominated everything." Well, until now. The record runs at the Bonneville Motorcycle Speed Trials on August 28 2014 give Eva and KillaJoule the titles:
Fastest electric motorcycle in the world
Fastest sidecar motorcycle in the world (including internal combustion)
Fastest speed of the event
Fastest woman on a motorcycle in the world
The 33 year old Eva is PhD student in mechanical engineering at the NSF Center for High Voltage/Temperature Materials and Structures at University of Denver. However, KillaJoule is just a very expensive hobby project together with her husband Bill Dube'. Bill is also a mechanical engineer and research scientist at the National Oceanic and Atmospheric Administration NOAA. Although the design is a team work involving family and friends, Eva has manufactured about 80 % of the vehicle herself in their two-car garage. It has taken 5 years to build the KillaJoule on a shoe-string budget. Eva and Bill define themselves as "backyard racers with high-level engineering skills".  They owe much of their success to "doing the math" to calculate exactly what will work best, instead of relying on luck, intuition or anecdotal information to find the optimal solution.
Although the KillaJoule is a fun hobby project, its real purpose is to be eco-activism in disguise. The main purpose of this 19 ft., 400 HP, sleek, sexy motorcycle is to show that eco-friendly doesn't mean slow and boring. Eva is also on a mission to encourage girls and women to pursue a career in science and engineering.
Specs of "KillaJoule":
Battery: A123 Systems Lithium Nano-Phosphate, 2P112S configuration of 14 Ah pouch cells, 375 V and 10 kWh. 500+ HP.
Motor: EVO Electric AFM-240 motor, 500 HP.
Motor controllers: Two Rinehart Motion Systems PM100 controllers, 400 HP combined.
Weight: about 1540 lb. (700 kg) including the driver Eva Håkansson
Dimensions: Length 19 ft (5.6 m), width 21 inches (0.53 m), height 38 inches (0.96 m), wheelbase 150 inches (3.8 m), track width with sidecar, 45 inches (1.14 m)
Frame and suspension: Chrome-Moly steel tubing with "Springer" style leading-link front suspension and classic stereo suspension for rear end.
Wheels and Tires: Hard rubber compound land speed tires on custom rims made by Larson Engineering in Boulder.
Brakes: Disc brakes front and back. Two Kevlar ribbon brake parachutes, actuated by Bimba air cylinders.
Body: Fiberglass composite nosecone, canopy, and sidecar wheel cover made by Nova Kinetics Aerosystems in Flagstaff, AZ. Body panels of pre-painted aluminum from Alreco.
Rider, builder, designer and co-owner: Eva Håkansson
Crew chief, designer and co-owner: Bill Dubé
Senior adviser and designer of the suspension: Sven Håkansson
Pit crew: Mike Stockert, Alicia Kelly, and Kent Singleton
Current record (as of August 2014): World's fastest electric motorcycle and the world's fastest sidecar motorcycle @ 240.726 mph (387.328 km/h) (AMA Record, pending ratification, set in August 2014). Complete list of records here. It is also the world's 4th fastest battery-powered vehicle (higher records were set by the cars White Lightning and Buckeye Bullet 1 and 2.5).
Registered top speed: Currently 241.901 mph (as of August 2014).
"Fuel": The battery in KillaJoule is recharged using wind power at home in Colorado, or by a hybrid quiet bio-diesel powered generator from CumminsOnan at the race track. We would love to use solar panels at the track, but we can't afford it…
KillaJoule under the skin. Click on picture for full resolution. 
Video and Photos:
Forward-facing cockpit video, 241 MPH run:
www.youtube.com/watch?v=6pAtdxYSrMk
Rearward-facing cockpit video, 224 mph run:
www.youtube.com/watch?v=3yiow51sWGs
The rearward-facing cockpit video shows just how uneventful a smooth run typically is in the KillaJoule. The suspension works so well and the power is so smooth that, when everything goes well, it is downright boring to drive. All the excitement occurs outside, apparently. 🙂
More high resolution press photos (free to use for editorial purposes to promote electric vehicles in a positive way):
www.evahakanssonracing.com/killajoule/ (scroll down the page to find photos, click on the photos for full resolution.)
More information:
Facebook page: www.Facebook.com/EvaHakanssonRacing (This is where you will find the latest news. The entire building process is also documented here.)
Website: www.killacycleracing.com
YouTube channel: www.youtube.com/killacycle
For the complete story about Eva, Bill and the KillaJoule, you can read how it all started in the great article "Fast love: The KillaCycle brought this couple together" by Ron S. Doyle in Westword.
Contact:
Eva Hakansson: contact-eva@killacycleracing.com
Bill Dube': contact-bill@killacycleracing.com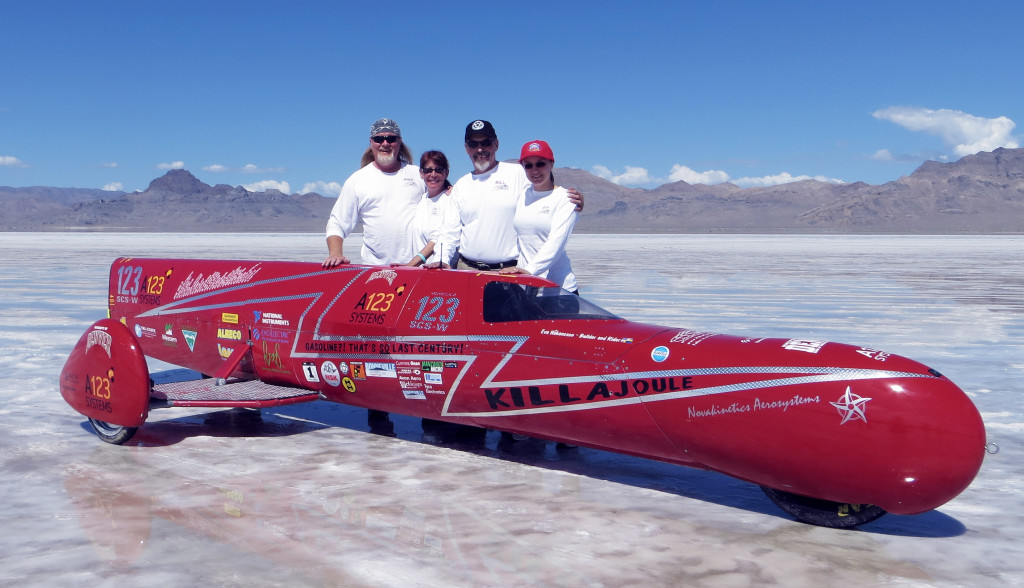 Racing is always a teamwork! The awesome KillaJoule team: Mike Stockert, Alicia Kelly, Bill Dube' and Eva Håkansson (Kent Singleton not shown in picture). Photo: KillaJoule Racing Team. Click on picture for full resolution.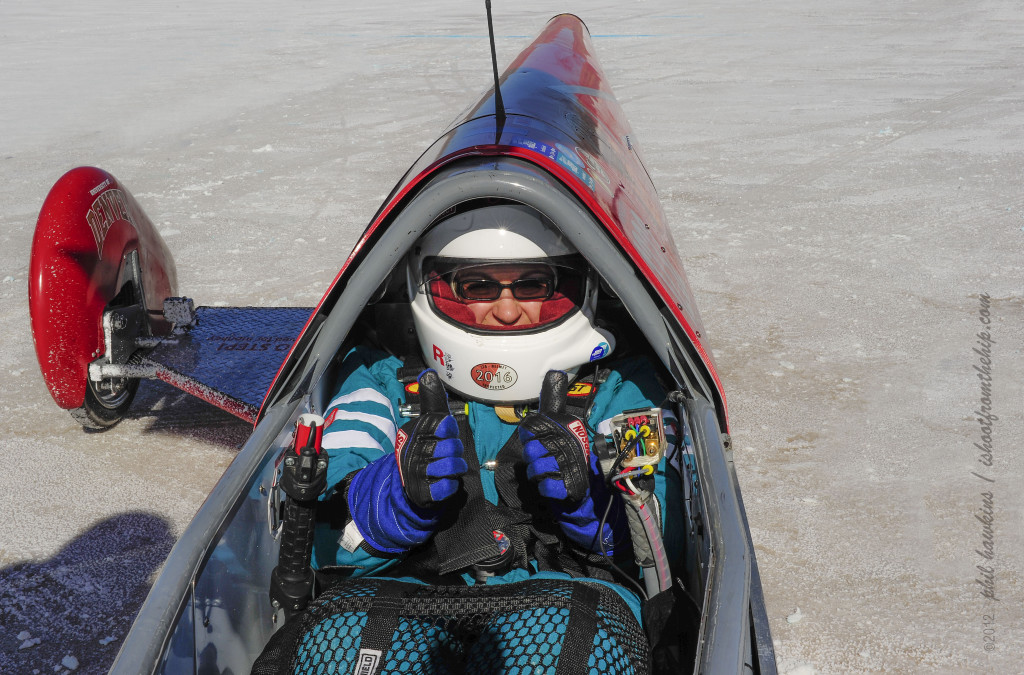 Eva Håkansson ready for another record run. Photo: Phil Hawkins (contact photographer directly for commercial use, http://ishootfromthehip.com/) Click on picture for full resolution.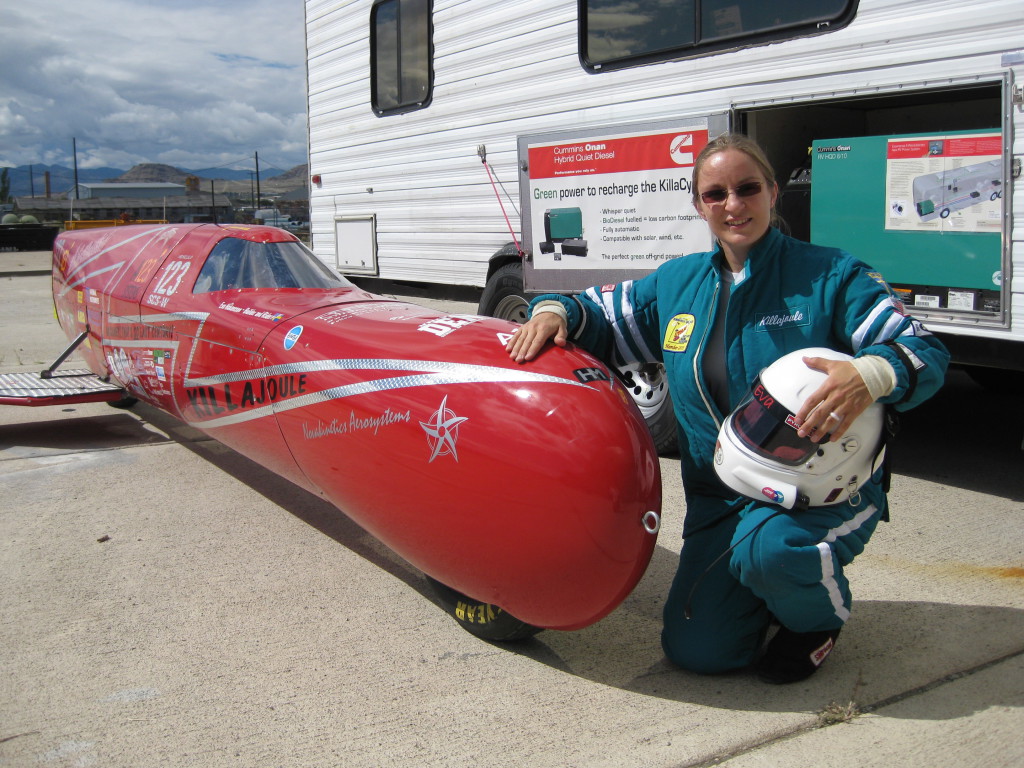 Eva Håkansson and KillaJoule with the 10 kW biodiesel-powered CumminsOnan Quiet Diesel generator used to recharge the KillaJoule in the background. Photo: KillaJoule Racing Team. Click on picture for full resolution.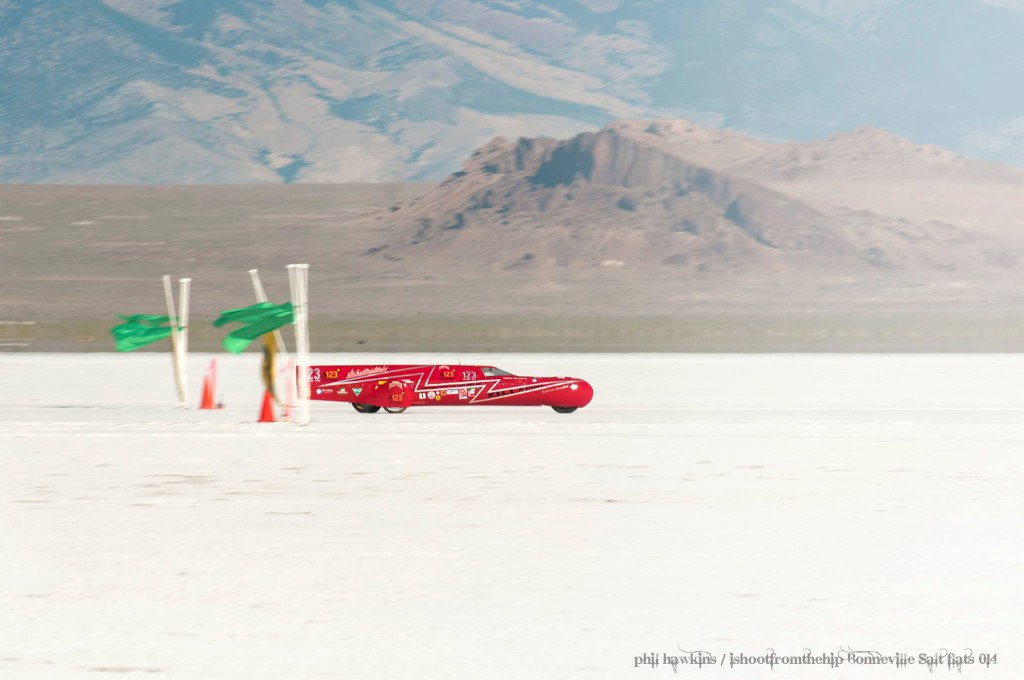 Eva Håkansson and KillaJoule entering the measured mile at 240 mph. Photo: Phil Hawkins (contact photographer directly for commercial use, http://ishootfromthehip.com/). Click on picture for full resolution.