The KillaCycle – still the world's quickest electric motorcycle with 0-60 mph in less than 1 second – has now found a new home at the Forney Museum of Transportation in Denver, Colorado. 🙂 It will be on display for at least two years.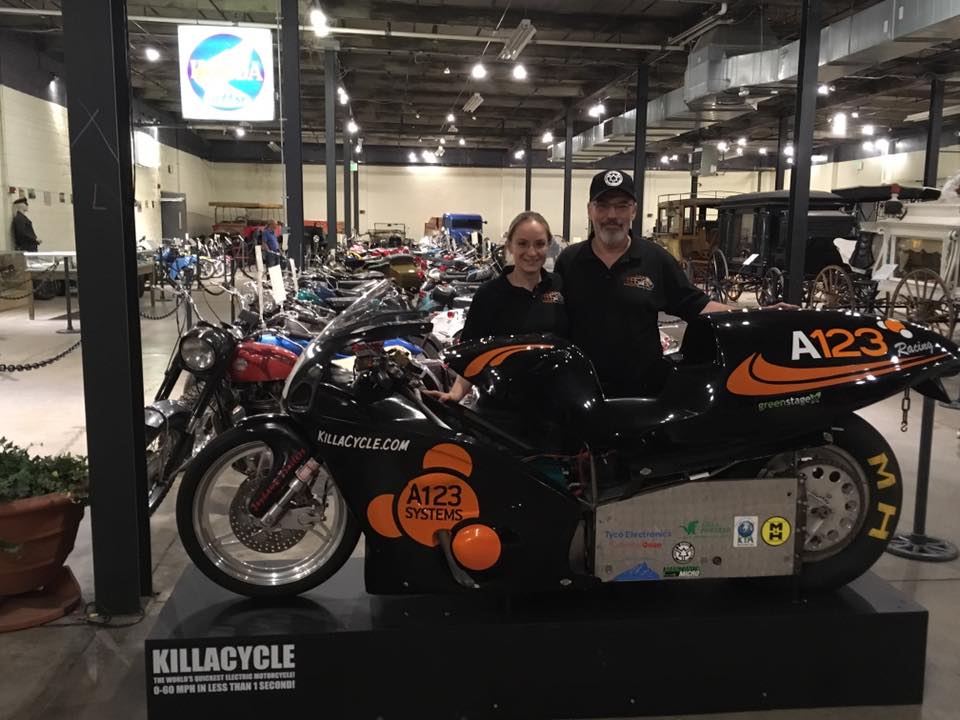 After 18 years at the track, touring three countries, and setting countless world records, the KillaCycle is now in its retirement home, the Forney Transportation Museum in Denver, Colorado. It set many overall electric vehicle records, including: First electric vehicle over 150 mph in the 1/4 mile. First electric vehicle to cover the 1/4 mile in under 8 seconds (7. 82 seconds.)
KillaCycle set numerous electric motorcycle 1/4 mile drag racing elapsed time records. It was the first electric motorcycle in the 10's, 9's, 8's and 7's in the 1/4 mile. Its top 1/4 mile speed was 174 mph and its lowest 1/4 mile elapsed time was 7.62 seconds.
The KillaCycle appeared on many TV shows including PBS Nova, NBC Today Show, Mythbusters, plus many appearances on the Discovery Channel, and the Speed Channel.
It still holds the overall electric vehicle record for zero to 60 MPH of 0.96 seconds. Other EV's have come close, but none have managed to break that particular record, yet.
360 degree photo of the display is found here:
https://www.facebook.com/EvaHakanssonRacing/posts/1769144616711803