Our AMA record of 212.047 mph (341.3 km/h) set at BUB Motorcycle Speed Trials at Bonneville in August is now confirmed!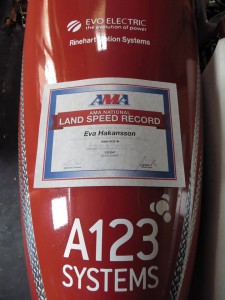 We couldn't have done this without our great sponsors! Our sponsors are too many to all be mentioned here, but we specially want to thank our drivetrain sponsors A123 Systems (battery), Rinehart Motion Systems (motor controllers), and EVO Electric (motor).
Two other very important supporters are NovaKinetics Aerosystems that made the super-slick bodywork and Larson Engineering that made the custom made high speed rims. None of the power from the drivetrain would be useful if we can't keep the shiny side up and the rubber side down…
Thank you all!
Let's be even faster next year!
// Eva & Bill