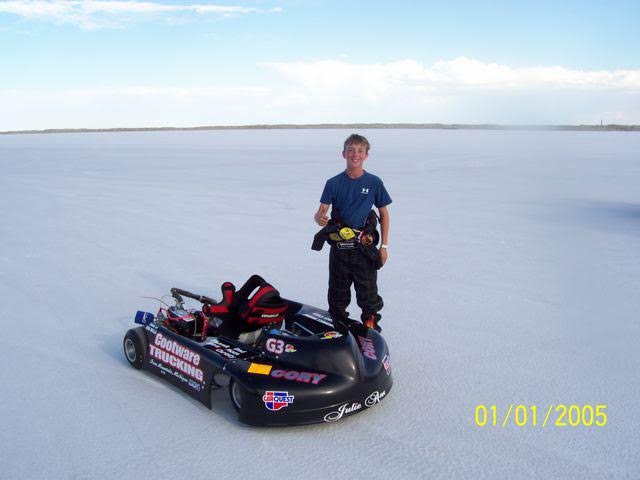 Cory Cootware may be the youngest record holder in the history of Bonneville. At the age of 8, he drove his ethanol powered go-kart at the Utah Salt Flats Racing Association's (USFRA) 1 mile "introductory course", a shorter course separate from the regular racing course. Over the next three years, he worked his way up to a whopping speed of 100.414 MPH (161 km/h) in 2009 at the age of 11. Because USFRA/SCTA doesn't certify go-kart records, the record was instead classified under the International Alternative Fuels Racing Association (IAFRA). Cory has continued to race and was the champion in the Legend Division (INEX) at Rockford Speedway in 2011 and 2012, to mention a few of his victories.
Cory wrote the nice essay below about his Bonneville experience for the National Merit Scholarship finalist competition. His essay was forwarded to me by Kent Singleton from USFRA, and I thought is was so inspirational for all of us that I asked Cory for permission to publish it here. I hope you will enjoy it as much as I did.
// Eva
"Bonneville"
by Cory Cootware
As I stared out at the endless expanse of salt and the distant mountains in front of me, I could not help but smile. The Bonneville Salt Flats were truly a place of wonder and amazement. I have never been anywhere else where so much beauty could be found in a place with so little. The only scenery was a perfectly flat layer of white salt that expanded for endless miles and the silhouette of the Silver Island Mountain Range that laid to the West. It was in this barren landscape where a few times a year speed freaks and motorsports enthusiasts would gather to push their homebuilt racing machines to the limit and see just how fast they could go.
I was only eight the first time I went to the Bonneville Salt Flats for the annual World of Speed event, held every September at the Salt Flats located just a few miles outside of Wendover, Utah. The World of Speed is a racing event in which cars, trucks, and motorcycles run on a straight course, ranging from one mile up to seven miles, and have their speed measured. The goal is to see how fast your machine can go and possibly set a land speed record for your particular class. Some Vehicles can reach speeds of over 400 M.P.H. I competed there with my go kart and was the youngest competitor to have ever competed on the Bonneville Race Course. I returned each September for the next three years, and each year I went faster and faster. The last year I participated at Bonneville I was able to set a land speed record at 100.414 M.P.H. The record I attained was classified under the International Alternative Fuels Racing Association (IAFRA) because I used Ethanol as the fuel in my go kart.
It is pretty incredible to be able to tell people I have a land speed record at Bonneville and was only eleven years old when I set the record. It took years of work and planning by my dad and me as well as the help of many friends in order to get to Bonneville, compete, and to achieve the record. The experiences I have from the four years of going to Bonneville are incredible. On top of actually racing on the Salt Flats, the last two years I went to Bonneville I was able to go to an elementary school in Utah and give presentations to the kids there about racing, the Salt Flats, and using Alternative Fuels in racing. Also, the third year I went to Bonneville I was interviewed and appeared on the Discovery Channel show Wreckreation Nation.
Looking back at all that resulted from my journey to the Bonneville Salt Flats is stunning. I was able to have experiences as a kid that most people do not get to have in their lifetime. Bonneville did more than just give me a good story to tell. It introduced me to people from all different walks of life and showed me how one similar passion can unite people from completely different backgrounds and areas of the world. Everyone at Bonneville puts their differences aside and I can honestly say it is one of the friendliest places I have ever been. It does not matter if someone has a one hundred thousand dollar car capable of running 350 M.P.H. or a one thousand dollar motorcycle that does 80 M.P.H., no one judges anyone else. Bonneville is a prime example of people coming together and doing what they love, and that is what life is all about.