Eva, piloting the KillaJoule electric motorcycle with sidecar, ran 270.224 mph (434.9 km/h) at Mike Cook's Shootout event in Bonneville. The two Buckeye Bullet cars are now the only battery powered vehicles faster than the KillaJoule. (The Buckeye Bullet 1, and 2.5)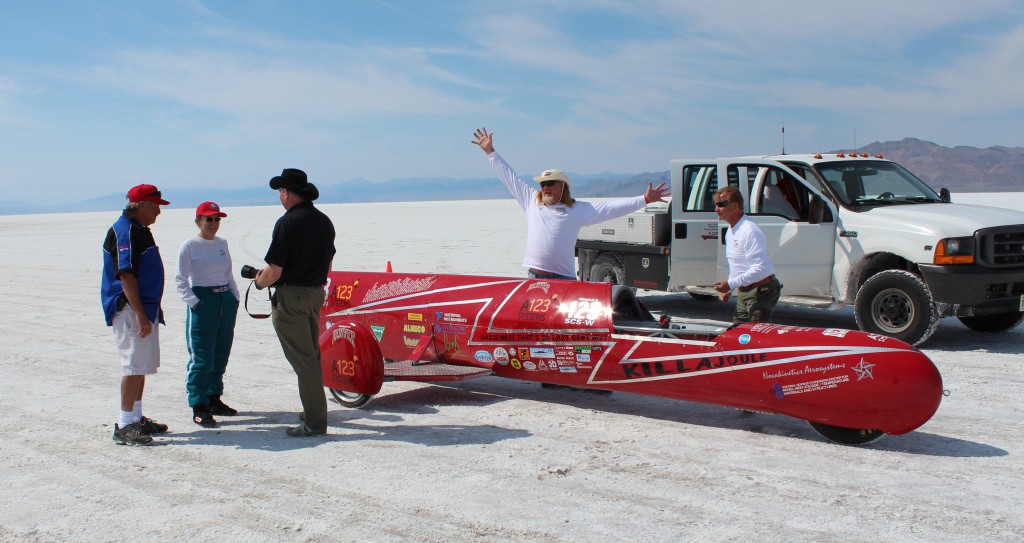 Picture: Just finished our 270 mph run! Photo: KillaCycle racing
The computer model showed a possible maximum speed of ~270 mph. For the first time ever, practice agreed with theory. We were both pleasantly surprised. It doesn't happen very often, for sure. The A123 Systems 14 Ahr pouch cells are really unbelievable. They have touting them for some time, and we finally agreed to try them. They are _really_ stiff. We attribute the remarkable top speed to the low sag of these cells under load. We made greater than 700 amp (25 C) looong pulls from the the 2P pack which resulted in less than 10 Celsius temperature rise. This tells quite a bit of the underlying story. The rest of the drive system performed flawlessly under the hostile salt environment. The Rinehart controllers and EVO motors gave us zero grief. While the ICE racers surrounding us had small armies for support teams, the KillaJoule had just five people. We mostly cleaned the salt off the vehicle, refilled the ice water cooling, recharged the pack, and repacked the chutes. The ICE racers we amazed at how little we had to do to cycle the vehicle for the next round. The bike ran very straight and the handling was perfect. This also was a pleasant surprise for an asymmetric vehicle. It was as pretty much as good as it gets for a day at Bonneville salt flats.
KillaJoule is according to Eva "ridiculously easy to drive" thanks to its three wheels and a typical run is very uneventful. The ride is much smoother than it appears in the video. However, Eva says that 270 mph is "starting to feel fast…"
Eva gets most of her enjoyment from the design and building work and finds the actual racing events mostly stressful and exhausting, but as she turns off the track she says "I have to admit that I enjoyed the ride"… 😉
However, that is pretty much all speed there is in the bike right now. There is maybe 10 % more power available, but that won't give us more than a few mph. We are done racing for this year. Nothing is broken (and no broken bones!), so we are not going to run again this year. It is not worth the risk for perhaps a few more mph. Going to work on some improvements over the winter, and perhaps make an attempt for 300 mph next year (300 is such a nice, round number… ) The lowest hanging fruit is obviously to clean up the not-so-aerodynamically-correct bodywork. We may also be able to squeeze out a few more electrons… who knows…. 😉
The track today was fabulous with a 6 mile run-up for acceleration. Mike Cook Sr., Mike Cook Jr., and their team had done a fantastic job! We are so honored to be a part of this event.
// Eva & Bill
Two quite different photos from this great day on the salt (click on the photos for full resolution):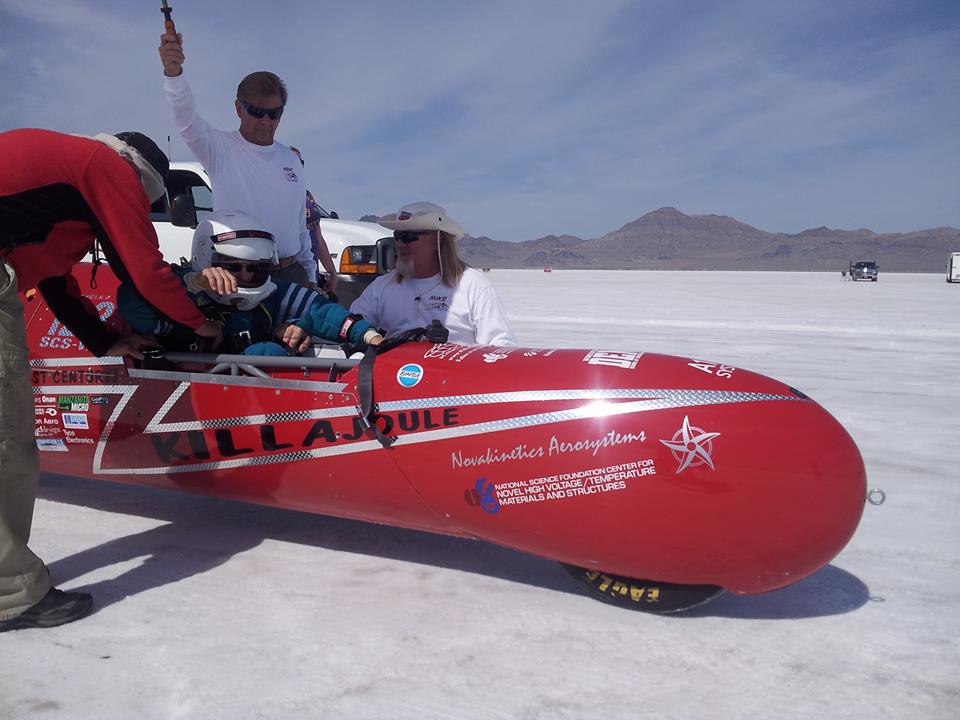 Getting ready for the 270 mph run. Photo: Mike Cook's ShootOut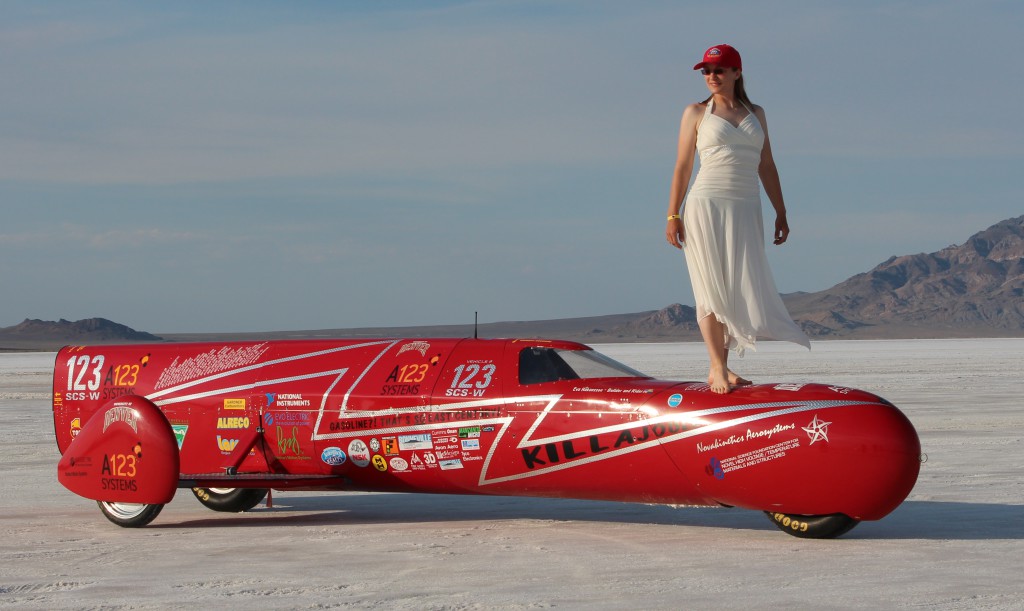 A few hours after the 270 mph run. A spontaneous beauty shot. We didn't have any suitable shoes, but it worked out well anyway. Photo: KillaCycle Racing